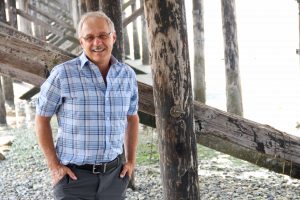 Daryl Veasey grew up on a farm in Saskatchewan, Canada. His family attended a small church pastored by Lionel Batke. Daryl received Jesus as his personal savior at six years of age.
He has been active in community and church life where he founded and supervised a Boys Club with single parent families in mind.  Daryl was involved with Generations church in Maple Ridge, British Columbia for twenty years where he served as an elder and in a pastoral role. He has experience teaching children, teens and adult bible studies.
His passion for the church and pastors is evident as he comes along side to encourage, build up and strengthen them.
Daryl has been to Costa Rica and Cuba on team mission's trips, but his mission in the fall of 2017 to India compelled him to continue to help others. He is practical in his teaching and contributes to the ministry with a prophetic gifting and prayer.
Daryl and his wife, Audrey now reside in White Rock, British Columbia. They have three grown children and four grandchildren. Together they enjoy walks, bike rides, kayaking, and exploring different countries.
His work life in the Water Department of Maple Ridge for 29 years ended as he retired in May 2019. He continues to be active in missions and has been to Poland and Tanzania.. He looks forward to serving and helping others. Whether its feeding the poor or speaking to groups locally or around the world, his passion for the church and pastors is evident, as he comes along side to encourage, build up and strengthen them.
His desire is to live a life honoring Jesus Christ and evangelizing locally and globally.
Donations
Please make cheques payable to Release Ministries Society and mail them to:

Daryl Veasey
305-1255 Best Street
White Rock, BC
V4B 1E4
cel : 778-549-9269
eTransfers is a Canadian system to send money between banks by email. Here's how to use this to send your donation:
Send your transfer to this email* address: donate@releaseministries.ca
Remember to write this in the Note field: "This donation is for Daryl Veasey"
*This email address is not monitored so do not use it to send messages.
Tax Receipts:
After the end of each calendar year, Canadian tax receipts will be issued for all qualified donations received from Canadian sources.
Contact
cel : 778-549-9269